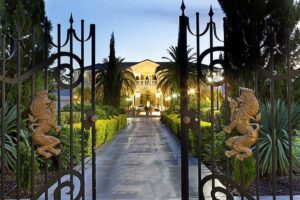 MEET THE UNDERWOODS OF NAPA VALLEY.
A heartwarming new romance series set in California's lush Napa Valley.
The Underwood brothers have inherited the character DNA of their male ancestors, a line of old fashioned southern gentlemen who took great pride in protecting their families.  Henrietta Underwood, the family matriarch, wants to marry off all five of her adult grandchildren to loving spouses. She has dubbed each one with a character trait.  As the eldest brother, Kenton Underwood is "the protective one."  He's protective of his family and stays busy running his family's winery.  The next brother, Justin Underwood is "the strong one." He's a passionate civil rights attorney, and a modern day knight in shining armor, who fights to protect the woman he loves in court.  The next is billionaire, Carter Underwood, "the gifted one."  He is a hard driving, self-centered CEO who's used to controlling his time, money and heart until he meets Courtney Oliver, the former "Miss Oakland" who makes him realize his heart has a mind of its own and he can't tell it who to love. Brandon Underwood, is "the artistic one." He has lost his passion for painting until he meets Ciara Alexander, an ambitious ballerina who must choose between her blind ambition, and Brandon's love. If you haven't met the Underwood brothers of Napa Valley, now's the time to meet these handsome, sexy men who have as much ambition as they have charm. The Underwoods of Napa Valley series takes a look at a family that enhances love and relationships among the vines, and changes personalities forever.