ONE WINTER NIGHT
(A Suttons of San Francisco Novella)
e-book $1.99 Available November 20, 2018 on Amazon.com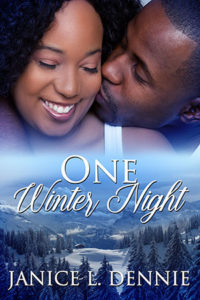 Veronique Sutton's mother has warned her to marry before she turns thirty if she wants to have children because menopause runs early in their family. The gorgeous 29 year old, looks like she just stepped out of Hollywood. Her only dilemma is that she expects the same of the opposite sex. The man she loves must be tall, handsome, upscale, and professional. And he must make her feel fire and passion. No lukewarm love for her. Veronique knows how to attract a man, but she doesn't know how to keep one so she gives up on finding her significant other…, until One Winter Night, when she meets two handsome men at her company's Christmas party. The sincere (and wealthy) Christopher Steele and the vibrant (and fiery) Jamal Stone. Both are handsome, upscale, professional men and both are as different as night and day. Only one can help Veronique make the right choice for her future happiness. Which one will it be?
BRANDON'S ARTISTIC PASSION Book #4
(The Underwoods of Napa Valley Series)
e-book $2.99 on Amazon.com
Photos of characters & objects mentioned in the book

Brandon Underwood, is one of the hottest artists in the San Francisco Bay Area who has lost his passion for painting. His world is turned upside down when he displays some paintings at an art show full of attractive women, and one woman in particular. She's tall, slim and smells of orange blossoms. He lives a solitary lifestyle communicating through his art. When it comes to love, Brandon's heart is as complicated as his art. He's searching for the ideal woman, but his relationships tend to fizzle out when he finds flaws with his love interests.
Ciara Alexander is an ambitious principal ballerina at the Delores Brown Ballet Company. She wants to join the San Francisco Ballet, but competition is stiff. After seeing Ciara dance, Brandon's passion for painting erupts into a masterpiece portrait of a ballerina wearing a red tutu and a purple feather in her hair. He entitles the painting "Ciara." Now that he has regained his passion for painting and found his ideal woman, will Brandon accept Ciara flaws or ruin his chance at happiness? Will Ciara's blind ambition become more important to her than a loving relationship with Brandon?
KENTON'S VINTAGE AFFAIR Book #1
(The Underwoods of Napa Valley Series)
e-book $2.99 on Amazon.com
Photos of characters & objects mentioned in the book
Unemployed chef, Briana Rutledge inherits a cottage on one thousand acres of land in California's Napa Valley Wine Country making her a millionaire. She sets out to turn the cottage into her dream restaurant.Others have agendas to destroy Briana and prevent her from opening her restaurant.
The Underwood brothers have inherited their grandfather's DNA of protecting women and children. As the eldest brother, vintner, Kenton Underwood, has been betrayed and no longer believes women need his
protection. He has no room for love until he meets sexy, understated Briana Rutledge who finds a special place in his heart. But Briana harbors a deep seated fear that prevents their future happiness. Kenton has also been scarred by an obsession that fuels his competitive behavior. Can their relationship survive Kenton's obsession and Briana's fear?
JUSTIN'S BODY OF WORK Book #2
(The Underwoods of Napa Valley Series)
e-book $2.99 on Amazon.com
Photos of characters & objects mentioned in the book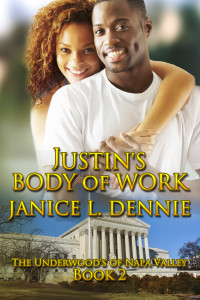 Ashley Jacobs, relishes in providing her customers at her day spa with a tranquil and healing environment. Maintaining her peace of mind, and creating harmony within herself come before anything else in the world. She wants to expand her successful business by adding more stylists and massage rooms. But her plans become completely stalled when she is suddenly hit with a vicious lawsuit from a someone she leasts suspects.
Justin Underwood is a young, hotshot attorney with a stellar resume. His body of work consists of winning equal rights, equal pay, sexual discrimination, and domestic abuse cases. He takes greatpride in fighting for those who cannot fight for themselves in the court of law. As the second oldest Underwood brother, Justin has been dubbed "the strong one" of the family. He is a realist who deals in facts, but after years of arguing stressful cases in court, Justin has become weary. He seeks relief from his stressful lifestyle at Ashley's Day Spa. The moment he hears Ashley's soothing voice, he feels like he's floating on air. He finds peace simply by being in her presence and is hopelessly drawn to the sexy woman with the slanted bedroom eyes. But Ashley has been scarred by a family secret and is unable to totally commit to Justin. She coasts along, with her head in the clouds, turning a blind eye to her legal problems. Can Justin open Ashley's eyes and get her to face the facts about her lawsuit and get her head out of the clouds? Can Ashley let go of her family skeletons, and open up to the man who loves her?
CARTER'S HEART CONDITION Book #3
(The Underwoods of Napa Valley Series)
e-book $2.99 on Amazon.com
Photos of characters & objects mentioned in the book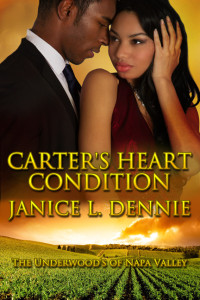 Billionaire Carter Underwood is a hard driving, self-centered CEO of Underwood Technologies. After working twenty-four hours a day seven days a week, he suffers burnout and wants to travel the world to get a new perspective on life. When it comes to romance, he believes women are a distraction and only want his time or money. He's used to controlling his time, money and his heart until he meets Courtney Oliver, the former "Miss Oakland." Then he realizes for the first time in his life that his heart has a mind of its own and he can't tell it who to love.
Courtney Oliver is down on her luck. The Great Recession has caused her to lose her job and her home in the exclusive Oakland Hills area of Northern California, all while raising Gabriel, her six-year-old nephew. Courtney changes Carter's heart—and his life forever by transforming him from a self-centered CEO to a happy, smiling man in love for the first time in his life. But Courtney has a secret that prevents her from believing anyone could ever love her for herself. Will challenges in Carter's corporation cause him to fall back into his self-centered ways? Will Courtney ever believe that Carter loves her for herself and nothing else?
TISHA'S WARM CHRISTMAS
(An Underwoods of Napa Valley Novella)
e-book $.99 on Amazon.com
Photos of characters & objects mentioned in the book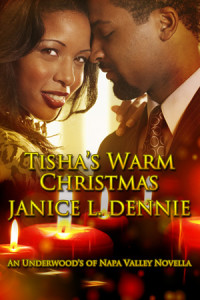 Tisha Underwood doesn't want to spend another lonely Christmas in bad weather. She longs for a significant other to keep her warm during the holidays. But Tisha finds it difficult to allow herself to trust again after her unfaithful boyfriend betrays her, so she decides to take a break from dating altogether until she meets the right man. When Henrietta Underwood invites her to spend Christmas in Napa, California, Tisha welcomes the chance to spend the holidays in a warmer climate. While staying at her great aunt's home, Tisha finds herself spending time with Trevor Howard, from the Poppy Hill restaurant next door.
Handsome, hardworking Trevor Howard is working toward owning his own restaurant. One thing he can't stand is a lying woman. He's waiting to meet what he calls the real deal—an honest woman who has his back. Trevor stops in his tracks when he sees Tisha walk into the restaurant as smooth as a feline. He looks her over and likes what he sees—an attractive, shapely woman with a creamy complexion, black satin eyes and long black hair braided down her back.
Entering into Trevor's world has the most remarkable effect on Tisha. After getting to know him, her vow to take a break from dating begins to thaw. Will her painful past prevent her from recognizing the right man when he's staring her right in her face? Will Trevor end his search for the real deal?
TISHA'S CHRISTMAS WEDDING
(An Underwoods of Napa Valley Novella)
e-book $2.99 Available November 1, 2016 on Amazon.com
Photos of characters & objects mentioned in the book
Tisha Underwood returns home to Dallas from visiting her boyfriend in Napa, California.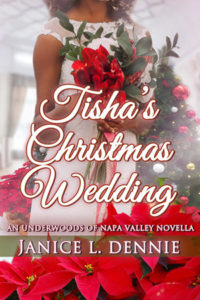 She dreads giving her father the news that her boyfriend, Trevor Howard, has asked her to marry him. Her father refuses to bless her marriage to Trevor, but Tisha has waited a long time for the right man. She ignores her controlling father and starts a new life in California.
While planning her wedding, Tisha realizes how different she and Trevor are from each other. Trevor's male pride prevents him from allowing Tisha to pay for the wedding from her hefty trust fund. Trevor wants to live in his small apartment and have a small wedding so he can save money to open a restaurant. But Tisha has her heart set on having a big wedding and living in an expensive subdivision, where her cousins live. The big day nearly falls apart, after Tisha buy the house of her dreams.
Will Trevor allow his male pride to ruin his future with Tisha? Will Tisha's privileged lifestyle stand in the way of marrying the man she loves?
JASON'S VALENTINE GIFT
(An Underwoods of Napa Valley Novella)
e-book $1.99 on Amazon.com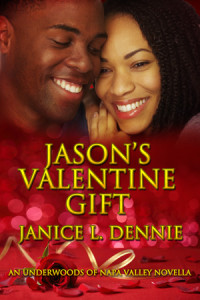 Jason Underwood returns home from Afghanistan only to find his girlfriend happily married to another man. To help him get some rest, Jason's sister, Tisha convinces him to accompany her on a vacation to Napa, California to visit their relatives. Upon arrival, Jason realizes the airlines has misplaced his bag containing his pain medication. He visits the local VA hospital where he is treated by Nurse Amber Carrington, who threatens to crack his icy exterior. But Jason is determined not to allow another woman past his carefully guarded heart.
Amber Carrington is on a mission to heal as many veterans as possible after losing her ex-boyfriend in Afghanistan. To Amber, Lieutenant Jason Underwood comes off as a bossy, commando type of soldier, used to barking out orders to his subordinates. But she's accustomed to that kind of behavior from her patients, and sees through Jason's tough exterior. She sees a man who, like her, suffers from a broken heart. Will Jason allow Amber to heal his wounded leg as well as his wounded heart? Will Amber overcome losing her ex-boyfriend?
THE LION OF JUDAH
(Lion of Judah Trilogy #1)
e-book 2.99 on Amazon.com
Photos of characters & objects mentioned in the book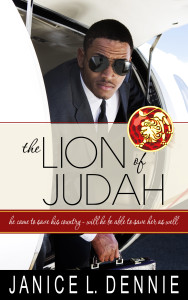 Prince Johannas of Ethiopia is torn apart by the escalating civil war in his country. Knowing a new constitution will end the war, he comes to the United States to finish the precious document. He never expects, however, to meet the woman of his dreams, especially when a deadly accident throws her literally at his feet. Shana Zachary has given up on relationships in general, men in specific, and doesn't intend to change her mind…until danger and intrigue force her to choose love.