2021 RELEASES
Mystery, suspense, romance…
THE ORCHARD MURDERS
COMING SOON!
2020 RELEASES
Juvenile e-book for kids stuck at home.

MYSTICAL NIGHTS OF THE
WATER SPRITES
Release Date: April 17, 2020
High in the Sierra Mountains, in the realm of the Mystical Water Sprites, lies a secret creek where tiny flying beings can breathe in air and water. Magic happens every day at Sierra Creek, where the water sprites have lived for centuries.  Some sing soft songs using trickling water as their instruments. Others play games while others sunbathe on leaves and pebbles. Everything the water sprites do is touched by fun and magic. Naida, leader of the water sprites, protects her subjects from intruders while they swim, play and frolic in the water all day. Haniah and her two friends, Amy and Fiona, go hiking into the Sierra Mountains, without their parents' consent. After taking the wrong path, they get lost and spend a scary night in the forest. The next morning, Haniah washes her face in a creek and watches Naida turn a squirrel into a dandelion. After watching Naida's magic, Haniah asks Naida to help her get back to the cabin.  After Haniah saves Naida's life, the water sprites lead Haniah and her friends back to the cabin. On the way to the cabin, Naida comes face to face with her mortal enemy, Artemis, protector of wildlife, and innocent maidens. Fearful for her life, Naida disappears, but she knows Artemis will help Haniah and her friends. Artemis protectively leads Haniah, Amy, and Fiona back to the cabin in the middle of a thunderstorm, a mudslide, and deep darkness. After surviving several accidents, Amy begin to cry, believing all is lost. But, Naida and the water sprites, can hear Amy crying. Will the water sprites use their magic to help Amy? Can Artemis successfully lead the girls through bad weather?  What will happen when or if the girls get back to the cabin?
2019 RELEASES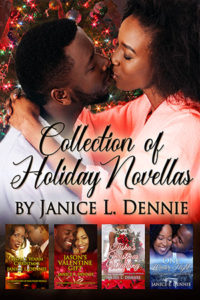 COLLECTION OF HOLIDAY NOVELLAS
By Janice L. Dennie 
December 1, 2019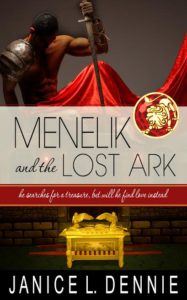 MENELIK AND THE LOST ARK
Book #3 Lion of Judah Trilogy 
November 1, 2019
2018 RELEASES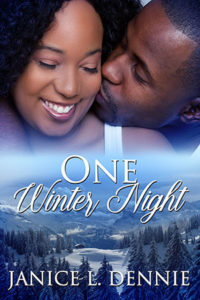 ONE WINTER NIGHT
A Suttons of San Francisco Novella
Release Date: November 20, 2018
2016 RELEASES
BRANDON'S ARTISTIC PASSION
The Underwoods of Napa Valley Series (Book 4)
Release Date: September 1, 2016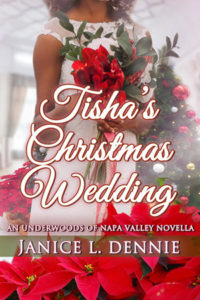 TISHA'S CHRISTMAS WEDDING
An Underwoods of Napa Valley Novella
Release Date: November 1, 2016
 
JASON'S VALENTINE GIFT
An Underwoods of Napa Valley Novella
Jason Underwood returns home from Afghanistan only to find his girlfriend happily married to another man. To help him get some rest, Jason's sister, Tisha convinces him to accompany her on a vacation to Napa, California to visit their relatives. Upon arrival, Jason realizes the airlines has misplaced his bag containing his pain medication. He visits the local VA hospital where he is treated by Nurse Amber Carrington, who threatens to crack his icy exterior. But Jason is determined not to allow another woman past his carefully guarded heart.
Amber Carrington is on a mission to heal as many veterans as possible after losing her ex-boyfriend in Afghanistan. To Amber, Lieutenant Jason Underwood comes off as a bossy, commando type of soldier, used to barking out orders to his subordinates. But she's accustomed to that kind of behavior from her patients, and sees through Jason's tough exterior. She sees a man who, like her, suffers from a broken heart. Will Jason allow Amber to heal his wounded leg as well as his wounded heart? Will Amber overcome losing her ex-boyfriend?
2015 RELEASES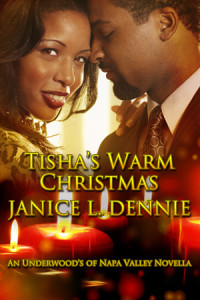 TISHA'S WARM CHRISTMAS
An Underwood's of Napa Valley Novella 
Tisha Underwood doesn't want to spend another lonely Christmas in bad weather. She longs for a significant other to keep her warm during the holidays. But Tisha finds it difficult to allow herself to trust again after her unfaithful boyfriend betrays her, so she decides to take a break from dating altogether until she meets the right man. When Henrietta Underwood invites her to spend Christmas in Napa, California, Tisha welcomes the chance to spend the holidays in a warmer climate. While staying at her great aunt's home, Tisha finds herself spending time with Trevor Howard, from the Poppy Hill restaurant next door.
Handsome, hardworking Trevor Howard is working toward owning his own restaurant. One thing he can't stand is a lying woman. He's waiting to meet what he calls the real deal—an honest woman who has his back. Trevor stops in his tracks when he sees Tisha walk into the restaurant as smooth as a feline. He looks her over and likes what he sees—an attractive, shapely woman with a creamy complexion, black satin eyes and long black hair braided down her back.
Entering into Trevor's world has the most remarkable effect on Tisha. After getting to know him, her vow to take a break from dating begins to thaw. Will her painful past prevent her from recognizing the right man when he's staring her right in her face? Will Trevor end his search for the real deal?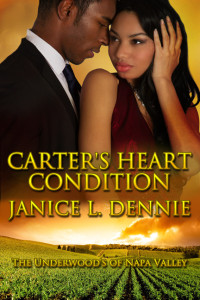 CARTER'S HEART CONDITION
The Underwood's of Napa Valley Series (Book 3)
December 1, 2015
Billionaire Carter Underwood is a hard driving, self-centered CEO of Underwood Technologies. After working twenty-four hours a day seven days a week, he suffers burnout and wants to travel the world to get a new perspective on life. When it comes to romance, he believes women are a distraction and only want his time or money. He's used to controlling his time, money and his heart until he meets Courtney Oliver, the former "Miss Oakland." Then he realizes for the first time in his life that his heart has a mind of its own and he can't tell it who to love.
Courtney Oliver is down on her luck. The Great Recession has caused her to lose her job and her home in the exclusive Oakland Hills area of Northern California, all while raising Gabriel, her six-year-old nephew. Courtney changes Carter's heart—and his life forever by transforming him from a self-centered CEO to a happy, smiling man in love for the first time in his life. But Courtney has a secret that prevents her from believing anyone could ever love her for herself. Will challenges in Carter's corporation cause him to fall back into his self-centered ways? Will Courtney ever believe that Carter loves her for herself and nothing else?

JUSTIN'S BODY OF WORK
The Underwood's of Napa Valley (Book 2)
Ashley Jacobs relishes in providing her customers with a soothing and healing environment at her day spa in the exclusive Silverado Hills area of Napa Valley.  She maintains her even temper and peace of mind by avoiding anger at all costs.  But when she faces a vicious lawsuit, from someone she least suspects, her peace of mind comes to a complete halt.
Justin Underwood is a modern day knight in shining armor, who fights for the disenfranchised in court.  One thing he can't stand is an argumentative woman. The moment he hears Ashley's soothing voice and feels her gentle touch, he finds comfort simply by being in her presence. He must have the woman with the sexy bedroom eyes.  But Ashley has a family secret that prevents her from totally committing to Justin.  After taking Ashley's case, he watches her turn a blind eye to those behind her lawsuit.  Can Justin get Ashley to commit to him, and open her eyes to the facts of her lawsuit?  Can Ashley overcome her family's secret that prevents her from committing to Justin?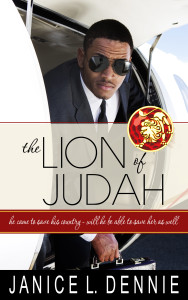 THE LION OF JUDAH
August 2015
Prince Johannas of Ethiopia is torn apart by the escalating civil war in his country. Knowing a new constitution will end the war, he comes to the United States to finish the precious document. He never expects, however, to meet the woman of his dreams, especially when a deadly accident throws her literally at his feet. Shana Zachary has given up on relationships in general, men in specific, and doesn't intend to change her mind…until danger and intrigue force her to choose love.