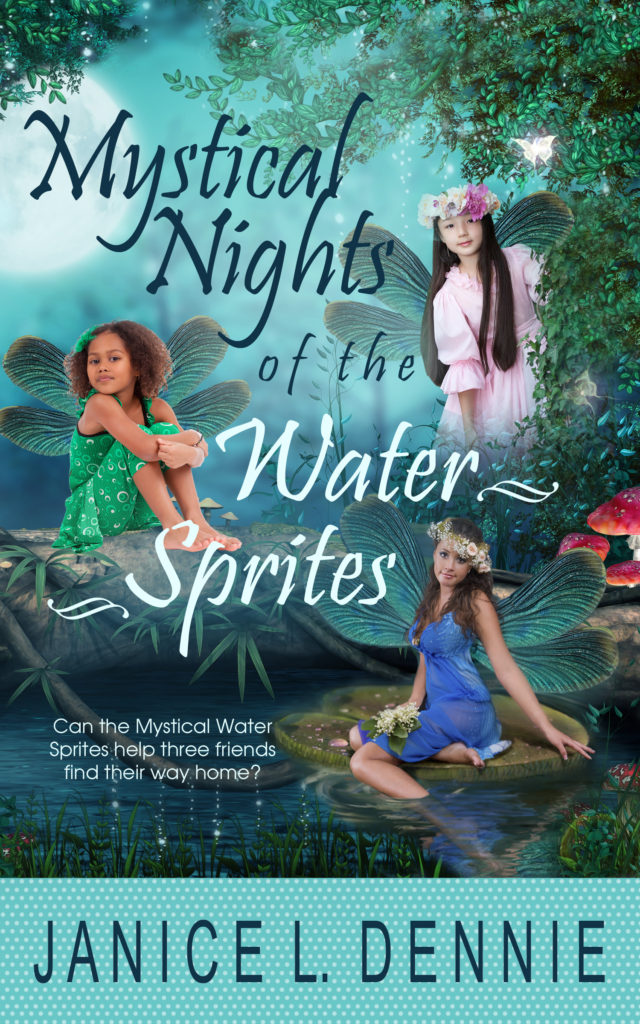 High in the Sierra Mountains, in the realm of the Mystical Water Sprites, lies a secret creek where tiny flying beings can breathe in air and water. Magic happens every day at Sierra Creek, where the water sprites have lived for centuries. Some sing soft songs using trickling water as their instruments. Others play games while others sunbathe on leaves and pebbles. Everything the water sprites do is touched by fun and magic. Naida, leader of the water sprites, protects her subjects from intruders while they swim, play and frolic in the water all day.
Haniah and her two friends, Amy and Fiona, go hiking into the Sierra Mountains, without their parents' consent. After taking the wrong path, they get lost and spend a scary night in the forest. The next morning, Haniah washes her face in a creek and watches Naida turn a squirrel into a dandelion. After watching Naida's magic, Haniah asks Naida to help her get back to the cabin. After Haniah saves Naida's life, the water sprites lead Haniah and her friends back to the cabin.
On the way to the cabin, Naida comes face to face with her mortal enemy, Artemis, protector of wildlife, and innocent maidens. Fearful for her life, Naida disappears, but she knows Artemis will help Haniah and her friends.
Artemis protectively leads Haniah, Amy, and Fiona back to the cabin in the middle of a thunderstorm, mudslide, and deep darkness. After surviving several accidents, Amy begin to cry, believing all is lost. But, Naida and the water sprites, can hear Amy crying. Will the water sprites use their magic to help Amy? Can Artemis successfully lead the girls through bad weather? What will happen when or if the girls get back to the cabin?